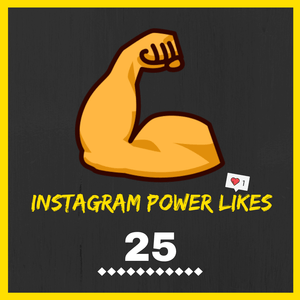 Buy Instagram Power Likes
Regular price $25.00 $25.00 Sale
You don't need to be in annoying engagement groups anymore! With the Instagram Power Likes from The Royal Key you'll boost your posts up to the discovery page and top of hashtags! 
What is the difference between Power Likes and the other Likes services we provide?
Our other likes services are likes from normal Instagram followers. Either random, gender based or country based. The amount of followers those users have varies.
Our Instagram Power Likes service provides likes from Instagram users with a minimal of 10.000 Instagram followers. And max of 500K followers! Those are regarded by the Instagram Algorithm as influencers and thus important.
Important notice: it's currently not possible to order the 12 month package because we can't guarantee the prices for the Power Likes longterm.
What does this mean for me?
Because those huge Instagram profiles (influencers) likes your posts it will result in your photo's and video's getting a lot more engagement and exposure. They will end up more easily in the Discovery Page and your posts will go VIRAL faster!
This is the Secret Sauce to give your profile a huge BOOST!

Some additional benefits.
Get discounts up to 35% when you order multiple mont

hs.

Secret Sauce to make your posts go VIRAL!
Important!
The Instagram Power Likes are delivered within 60 minutes of you posting.

Make sure your Instagram profile is NOT on private modus while you are eligible to receive the likes. 

You will receive the amount of Power Likes you purchased for all posts posted during 1, 3, 6, or 12 months